The Master Builder: Master Balanghai Project Manager Judail Muyong, pointing to the final destination of the Balangay Voyage: Tawi-Tawi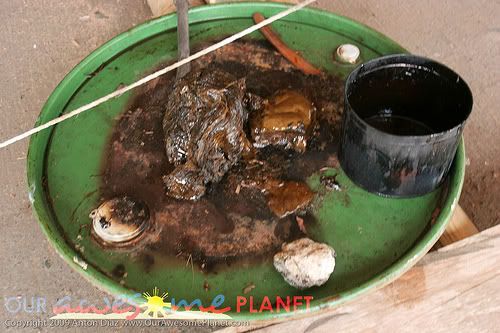 To make the Balangay water-tight, they use natural resin from mangrove trees.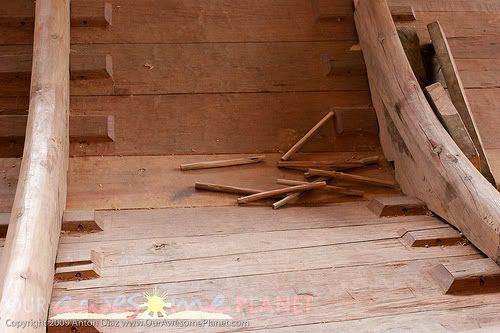 The planks are connected with pegs (dowels. The historical wooden boat which did not use any single nail and built in a lashed lug technique believed to have been used by Malay settlers in their vast sea travel during pre-Hispanic times will be used again to circumnavigate the World.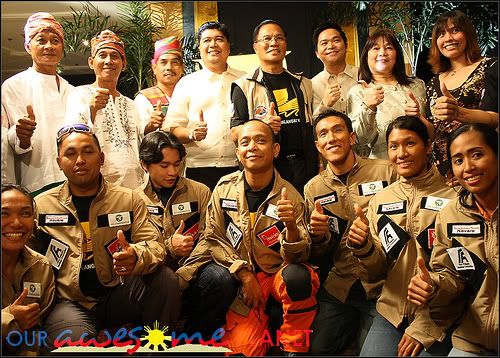 Balanghai Circumnavigation Team headed by former DOTC USEC Art Valdez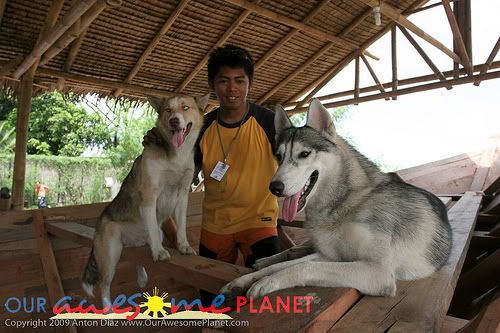 Art Valdez' pet dogs will be joining in this historical Balanghai Journey.
Phase 1: Philippine waters with 7 legs: Manila, Boracay, Mactan in Cebu, Cagayan de Oro, Zamboanga, General Santos, Davao City, Siluag in Tawi-Tawi
On June 5 after 40 days of construction, the now famous Balanghai (pronounced as Ba-la-ngay) Boat is complete, and will soon be transferred to Manila Bay on June 12, 111th Independence Day Celebration, after it finally sets sail on June 24 in time for the Araw ng Maynila.
Last April 24 of this year, the The Kaya ng Pinoy Foundation, together with the Philippine Mt. Everest Expedition team, spearheaded the ceremonial laying of the keel held at the CCP grounds, Pasay City with Former President Fidel Ramos as the keynote speaker.
The event signals the start of the construction with the age old tradition in boat building that this will bring good fortune and safe voyage.
According to former DOTC Undersecretary Art Valdez, the team will attempt to set a record by travelling around the world using the ancient Filipino sailing vessel called Balanghai or Butuan Boat, the first phase consists of 7 legs around Philippine waters namely Manila, Boracay, Mactan in Cebu, Cagayan de Oro, Zamboanga, General Santos, Davao City and Siluag in Tawi-tawi before it begins to retrace the trading routes in Southeast Asia on 2010.
Butuan Boat primarily was chosen because it is the very first mode of transportation used by the forefathers in trading with the Chinese and other Asians and it has been used long before the Philippines was discovered, as Butuanons proudly say: "There was no Philippines, but there was Butuan".
The same group of men and women who had set the record as the first Filipinos to have reached the summit of Mount Everest in 2006, and the first Filipino women, who carried out the same feat a year later will make up the Balanghai circumnavigation team composed of Leo Oracion, Edwin "Pastor" Emata, Noelle Wenceslao, Carina Dayondon, Janet Belarmino-Sardena, Dr. Ted Esguerra, Fred Jamili, Dr. Voltaire Velasco, and Usec Art Valdez who heads the team.
The Balangay was created using ancient construction methods. The shell is made of Dungon, which is the wood used by Philippine ancestors, while the planks are connected with pegs (the "dowels") and to make the Balanghai water-tight, the builders used natural resin from mangrove trees.
The Balangay measured 15 meters long and 3 meters wide is located near Folk Arts Theater and the Sun Cruises Ferry going to Corregidor. (photos by Anton Diaz)