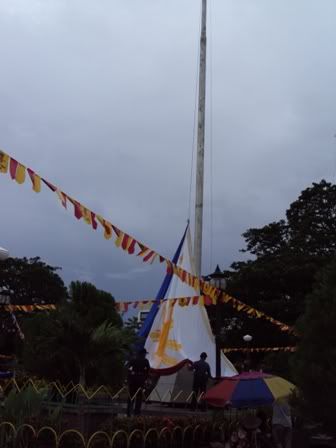 The 100 ft historic flag pole, getting ready for June 11 on its 111th Philippine Independence Day Celebration.
The story:In 1999 the National Centennial Commission proclaimed that Butuan was the site of the 1st flag-raising in Mindanao and that it took place on January 17,1899.
The flag was raised at the town square, attended by Filipino patriots led by Wenceslao Gonzales.
To commemorate the centenary of the event the commission had the town square refurbished and built a hundred-foot flagpole.
The claim was contested by Surigao and Cagayan de Oro. To settle the matter a roundtable panel, headed by former Supreme Court Associate Justice Camilo D. Quiason, was convened. It heard the presentations by the three cities.
Representatives from Cagayan de Oro said that the Philippine flag was raised by Filipino patriots in their place on January 10, 1899. The spokesmen from Surigao presented evidence that the flag was raised there as early as December 26, 1898.
Though it was said that the flag was observed flying without any fanfare, the panel ruled in favor of Surigao. The National Historical Institute installed a marker recognizing Surigao.
However, to date, Butuan was recognized as the site of the
FIRST OFFICIAL
hoisting of the Philippine flag in Mindanao.