Butuan will have its own limelight in building the historical and now famous Balangay Boat, it will still be built according to traditional methods by Balangay master builders from Sibuto and Sitangkay in Tawi-Tawi led by Professor Judail Muyong.
However, the Balangay Boat will be much longer compared to the first replica built in CCP, Manila of the Kaya ng Pinoy Incorporated which is now sailing the Philippine seas spearheaded by former DOTC Undersecretary Art Valdez and the Philippine Mt Everest team.
Balangay Boat Building project in Butuan was initiated bythe private sector in partnership with the Butuan Historical and Cultural Foundation and Butuan Global Forum, Inc.
According to Mr. Greg Hontiveros, President of Butuan Historical & Cultural Foundation and Chairman of the Committee on Butuan Balangay Boat Building Project, it took more than 3-months to secure the needed lumber which consists of red lawaan for the upper planks, yakal and dungon for its base.
On November 9, the Committee selected 4 finalists to compose Butuan Balangay Crew namely Sato Raypon, Toto Calo, Nico Calo and Lemzar Manginsay. The group left Butuan on board Mt. Carmel for Cebu and sail to Panglao, Bohol to meet with Diwata ng Lahi crew.
Art Valdez will have the final evaluation to chose who among them joins the Voyage of the Balangay for its Butuan-Ozamis leg and onwards.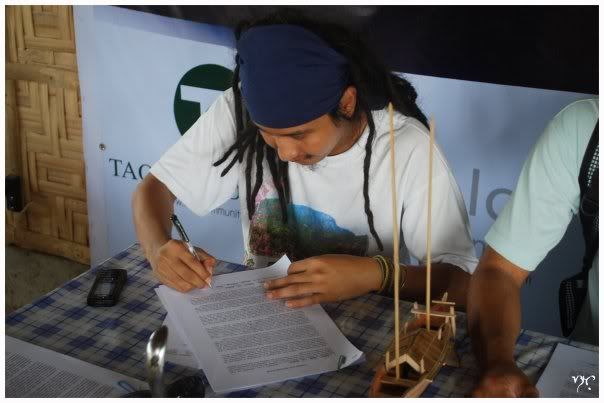 Sato Raypon signed the waiver and release form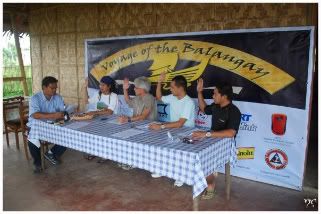 all 3 photos by Sato Raypon
Butuan Balangay Boat