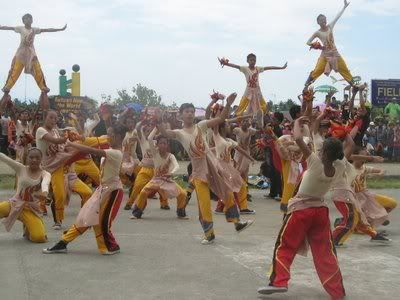 Champion BCSAT Pep Squad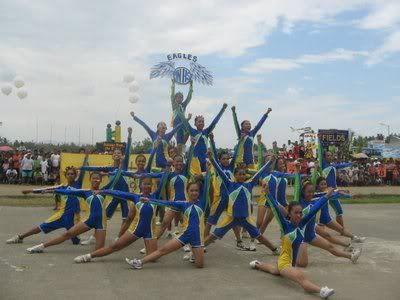 The ANHS Eagle Squad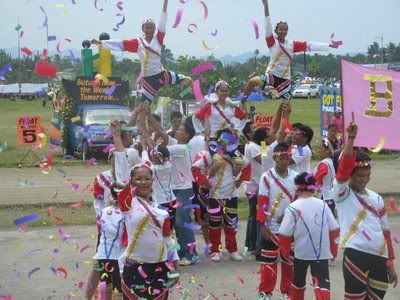 Libertad National High School Pep Squad
Champion, 1st Hip Hop Dance Competition
1st Prize Winner Grand Float Competition: DILG family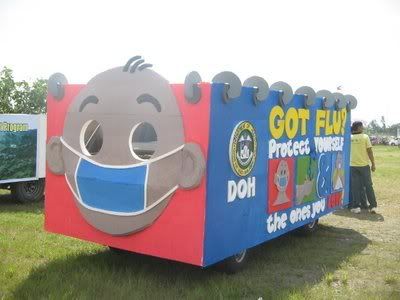 DOH entry specal award for Best Thematic on its campaign against A(H1N1)
Congressman Jose Aquino II looks on as City Fire Marshall Rey Antonio Restauro received the keys from DILG Secretary Ronalpo Puno and Councilor Randolph Plaza, witnessed by City Tourism Council Chair Daisy Plaza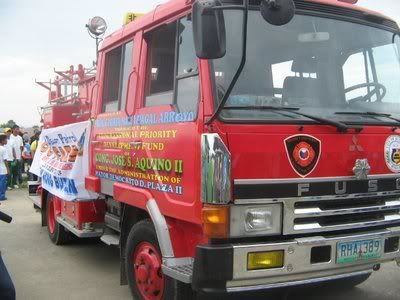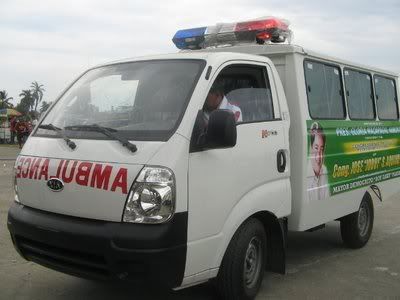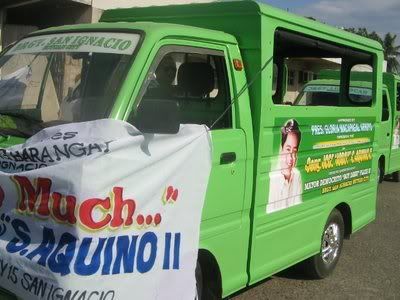 Officialdom of Butuan City led in today's activities in celebration of the 59th Adlaw Hong Butuan, a yearly event that celebrates Butuan's Charter Day.
The celebration started with an early morning Thanksgiving Mass at St. Joseph Cathedral, followed with a floral offering of the tomb of Congressman Marcos Calo at Zamora cemetery and a motorcade from J. Rosales Avenue going to the city sports Complex where a program was held.
Three pep squads with their own official drummers' chants their most popular cheer in Butuanon dialect during the cheerdance competition.
Declared champion for two consecutive years is the Butuan City Schools of Arts & Trade (BCSAT) receiving a cash price of 15,000 pesos, while the Agusan National High School (ANHS) and Libertad National High School got the 2nd and 3rd prize respectively.
Entry 9 from the DILG Family comprising the Bureau of Fire, Bureau of Jail and Management and the PNP won 1st prize with a 50,000 cash prize for the Grand Float Competition, followed by the City Schools Division of the Department of Education who was awarded with a 30,000 cash prize, while Butuan City Water District won 3rd place.
The distribution of 36 multicabs, 1 ambulance, 1 patrol car and 3 fire trucks by Congressman Jose Aquino II became the best part of the activity well applauded by the crowd.
The turn over of keys to City Fire Marshall Rey Restauro, Butuan Medical Center Chief Dr. Joyce Hidalgo, and City Police Director Joseph Plaza was witnessed by DILG Secretary Ronaldo Puno with the presence of City Tourism Council Chairperson Daisy B. Plaza and members of the Sangguniang Panglunsod.
Congressman Aquino in his speech reiterated his commitment to the DILG family and said, "The new patrol vehicle will boost the police visibility and response operation Butuan City, while the new fire truck is a big help to the BFP's operation during fire incidents."
The fire trucks being utilized in the City's Bureau of Fire was last acquired in 1992.