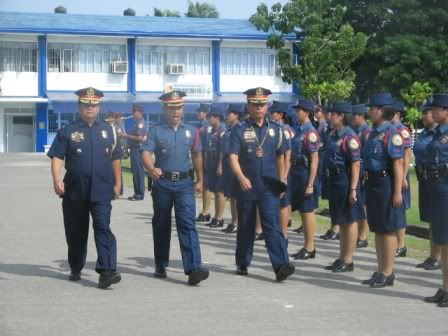 PDDG Geary Barias shakes hands with outgoing PRO 13 RD Jaime Milla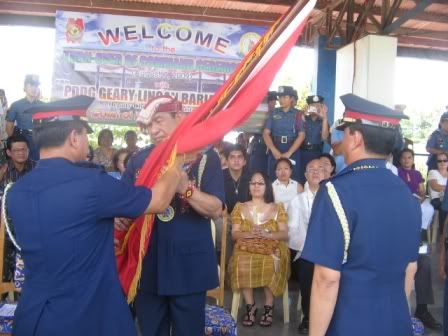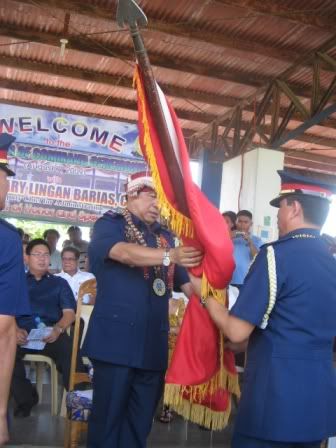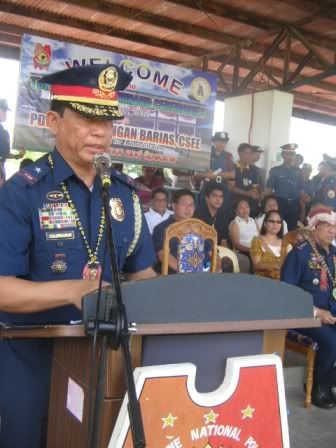 The new Police Regional Office 13 Regional Director, Police Chief Supt. Lino Calingasan
Deputy Chief for Administration, Police Deputy Director General Geary Barias personally graced on August 7 the turn-over of command ceremony at Camp Rafael Rodriguez for the new Police Regional Director of Police Regional Office 13 (PRO 13).
The newly installed Police Chief Supt. Lino Calingasan assumed office replacing Police Chief Supt. Jaime Milla, who was designated as Director of the Directorate for Integrated Police Operations-Eastern Mindanao with jurisdictions over Regions 10, 11 and Caraga.
PCS Milla received awards and tokens from groups in grateful acknowledgement for a commendable service rendered in the region.
"I hope the new leadership will have a continuity of improving the service to the public, maintaining the peace and order in Caraga and providing logistics to police," said outgoing PCS Milla in his speech before signing the relinquishment order.
Milla during his 22 months of service in PRO 13 as Regional Director was able to turn over 5 mobile patrol cars, almost 40 single motorcycles for motorcycle cops, standardized 11 police stations, established the 1st Regional Women & Protection Office inside Camp Rafael Rodriguez, among ithers, and boasted changes in recruitment of policemen based on qualifications and doing away with red tapes.
New Police RD Calingasan in its inaugural speech promised to equal Milla's prowess in leading policemen in Caraga and vowed to instil discipline, uphold human rights, and a better service.
He sought the support of the LGU, the army and the PNP personnel giving emphasis on working as a team to accomplish the peace keeping efforts and in achieving the transformational goals of the PNP.
Newly installed PRO 13 Chief vowed to likewise give priority efforts of recovering loose firearms as directed by President Gloria Macapagal Arroyo.
Specifically, PCS Calingasan appealed to the local officials to allow PNP members to work hand in hand towards the development of the region, for the people to allow the PNP to serve and protect, for the media to help portray the true image of the PNP and correct mistakes by providing him true information, and to the religious sector to help, guide and pray for the policemen that they may be guided accordingly in performing their duty.
Police Regional Director Lino Calingasan served in Caraga during the 80's in different capacities, became Provincial Director in Agusan del Sur, re-assigned at PRO 13 in May 1998 until February 2001 as Chief of the Planning Divison, then Chief of the Intelligence division before he was assigned in NCR as Deputy Regional Director for Administration (DRDA) and now in PRO 13 as Regional Director.